About the Award
The Patti Lather Distinguished Award and Lecture was established in 2021 to honor the work of emerita professor, Dr. Patti Lather, who spent her career in Education & Human Ecology focused on cutting edge methodologies and training the top graduate students. Each recipient will present their work through a lecture focused on contemporary issues in critical, feminist, post qualitative and/or diversity related topics. The biannual lecture coincides with the Advanced Methods Institute and is open to the public. The award and lecture series provides a legacy to the college, faculty, and graduate students across the country.
Read more about the Patti Lather Distinguished Award and Lecture here.
Award Winners
2023: Dr. Gloria Ladson-Billings
Gloria Ladson-Billings is the former Kellner Family Distinguished Chair of Urban Education from the University of Wisconsin-Madison. Ladson-Billings is the Past President of the National Academy of Education, former President of the American Educational Research Association, a Fellow of the Hagler Institute of Texas A&M University, a Fellow of the American Academy of Arts & Sciences, and a Fellow of the American Educational Research Association. She holds 9 honorary doctorates from national and international universities. She is author of the critically acclaimed, The Dreamkeepers: Successful Teachers of African American Children and Crossing Over to Canaan: The Journey of New Teachers in Diverse Classrooms and 12 edited volumes along with more than 100 journal articles and book chapters.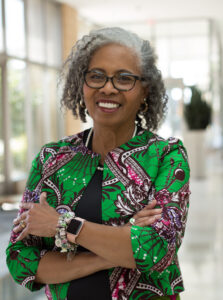 2021: Dr. Patti Lather
Patti Lather (she/her) is Professor Emerita in the Department of Educational Studies, College of Education and Human Ecology, at The Ohio State University where she taught qualitative research, feminist methodology and gender and education from 1988-2014. She is the author of numerous articles and five books, the latest being (Post)Critical Methodologies: The Science Possible After the Critiques: The Selected Writings of Patti Lather, 2017. She has lectured around the world, including a 1989 Fulbright to New Zealand, and is a 2009 inductee of the AERA Fellows, a 2010 recipient of the AERA Division B Lifetime Achievement Award, and a 2015 recipient of the International Congress of Qualitative Inquiry (ICQI) Lifetime Achievement Award.